Gallery walls are everywhere right now and thankfully don't look so much like Grandma's house. I have a mini gallery wall in my bedroom.
I think the most important thing is to use pictures and things that are special to you. I love my New York drawing. I bought it from a street artist the first time I went to NYC on the Brooklyn Bridge and the framed scarf is painted silk a friend from Thailand sent me. The pictures are from different times ranging from high school to now and they are all of great days that I'll never forget. The pillow is completely random, I thought it was funny bought it and then had no idea what to do with it so there it sits.
Now that I have done my mini wall I think I'm ready for the big leagues and a full out gallery wall.
I was planning to do our hallway, but I am digging these that help camouflage the TV now.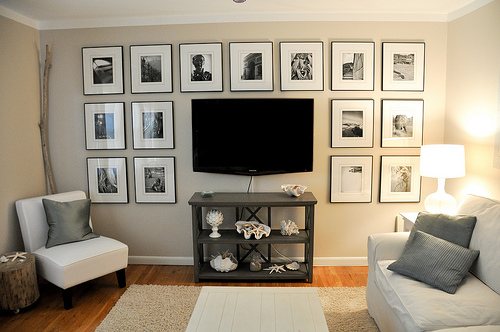 Via Brooklyn Limestone
I really like both, but I think I prefer the looser look and a mix of frames. I think that will be more difficult though. It's one of those things that looks effortless and like you just flung them up on the wall, but actually takes a lot of thought and planning to look good.
I like the mix of modern and traditional here.
I love this one it looks really home-y and I think the white mats give your eye a place to rest.
Pottery Barn
Love how they mixed in different elements like the necklace here.
I can't wait to get started on mine. Erin and I have very few pictures up in our house. Mainly because we took out all the walls and there is no where to hang them! Adding some pictures will really help make our house feel more like home.